About Us
Warren
Welcome to the Land of Odds-Be Dazzled Beads. You may browse our catalog at your leisure.
A visit with us is a perfect opportunity to settle in with your computer, friends and family, have some fun, and indulge your shopping pleasures. Each wonderful and imaginative alcove in our shop is chock full of interesting "what-is" and "how-to" information and insights, as well as great selections of merchandise.
Jayden and Rosie
Land of Odds-Be Dazzled Beads specializes in beads and jewelry making supplies . At Land of Odds-Be Dazzled Beads, you can find glass beads, seed beads, semi-precious stone beads, cords, chains, filigrees, sterling silver components, earring findings, pin findings, clasps, charms, stampings, castings, stringing supplies, austrian crystal beads. Land of Odds-Be Dazzled Beads provides the supplies you need for designing jewelry, decorating clothing and costumes, or enhancing furnishings and decorative accessories.
It's all gotten through here! If we do not have a product in stock, we can get it for you quickly. Your product and design needs are our priority!
Retail or Quantity Discounts and Wholesale.
Whether you want small or large quantities, you can find it at Land of Odds-Be Dazzled Beads.
Open OnLine 7 days a week.
24 hours a day.
365 days a year.
Land of Odds is located in Nashville, Tennessee.
This Web-Catalog has been a very BIG! project for us, to say the least! We're a small store. Beginning in 1995, it took almost 2 years to assemble the pieces. We had our first on-line order in March 1998.
We're very pleased about our catalog, and very excited about our contining plans and efforts to upgrade and expand it. After our first 1 1/2 years on the Internet, we made some major changes. First, in the fall of 1999, we made Land of Odds an internet-only store. We chucked the high overhead of our downtown store, and relied primarily on on-line sales. Second, we've opened up a small bead shop -- Be Dazzled Beads -- in a suburban area of Nashville. We operate our catalog warehouse operation next to Be Dazzled Beads. The two businesses are run separately, but we coordinate our inventories.
As you can tell, our internet catalog and experiences have come a long way. At first, our idea for a catalog was in the form of a print catalog. But the feasibility, the effort involved and expected economic return on such a catalog weren't quite right. The print catalog idea didn't keep us motivated. The internet, we felt, would enable us to reach more people, update the product information more easily, and could keep up with changes in the store more easily, as well. But how to proceed with an internet catalog?
Shop, learn, explore, indulge. At your convenience. At your leisure. At your pleasure.
Jayden Jones, Warren Feld,
and Rosie the Dog and Dottie the Dog
and now Lily the Dog,
Daisy the Dog, and
Maggie the Dog
Land of Odds has always had an orientation for custom-design
and distinct and extraordinary pieces,
right from its inception. While today
Land of Odds provides a wide range of custom and
jewelry designs, and other jewelry and beads, this wasn't always so.
Jayden
Land of Odds was founded in 1980 as a shop where antique lamps and furniture were restored. We sculpted, detailed, painted, stained, carved, glued and did whatever it took to return an antique to its original beauty and lustre. Our skills evolved, and so did our medium.
Today, Jayden Alfard Jones (Jame's signature name on his jewelry designs and lampwork beads) and Warren Feld work with silver, bronze, copper and semi-precious stones to create pins, earrings, bracelets, necklaces and objects d'art.
In September of 1999, Land of Odds became a "virtual" store only. It coordinates its activities with Be Dazzled Beads in Nashville -- a bricks and mortar operation. It is at Be Dazzled that you will find the wonderful lampwork and silver pieces that we create.
And you might catch a glimpse of our dogs, Daisy, Lily and Maggie. Lily is a little stand-offish. Daisy is sleepy, cuddly and loves attention. And Maggie likes to play fetch with her ball -- Please pick up her ball and play fetch with her -- Our arms get very tired everyday.
And we can't forget our dog Dottie who has her own special Web-Page -- Dottie's Page.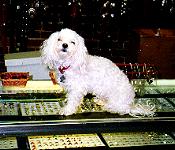 Lily, was six months old in November 2004. You can visit her page as well.
We got Daisy when she was 1 year old, in January 2009.
Jayden took his sister's dog Maggie in February 2010. His sister could no longer take care of Maggie. Maggie is like the energizer bunny. Maggie was 9 months old then.
In 2003, Jayden retired from the retail operations of the business, but he continues to work in his studio and teach.
VISIT US in NASHVILLE, TENNESSEE
at BE DAZZLED BEADS


Welcome to Be Dazzled Beads
718 Thompson Lane, Ste 123
Nashville, TN 37204
615-292-0610
www.bedazzledbeads.com
STORE HOURS: Mon-Sat, 10am-6pm
Shop On-Line: Land of Odds


See MAP.
| | | |
| --- | --- | --- |
| | Welcome to Be Dazzled Beads | |

As you enter the shop,
you'll see a wide selection of
beads, tools, books, and findings.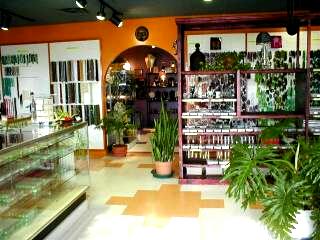 Be Dazzled Beads has
sterling silver, gold filled,
14KT gold and vermeil findings,
charms, and pieces.
We have Czech seed beads on
hanks, in many, many colors
Czech strung glass in every color.
Gemstone beads and pearls on strands, as well.
Our customers can peruse our shelves
of usual and unusual beads,
findings, buttons, centerpieces,
carvings, tumbled stones, bead boards,
looms, and more,
or sit down at one of our tables
to create their own pieces.
We have the full range of Japanese
seed beads, delicas, and bugles.
We carry one of the widest
selections of stringing materials.
The Open Window Gallery


A showcase of fine art jewelry
at Be Dazzled Beads
The Center for Beadwork & Jewelry Arts


We offer 80 classes each month
in a wide variety of disciplines.

Land of Odds
You can order from us on-line.
Here is a picture of one of the stockrooms.
**********************
LAND OF ODDS - BE DAZZLED BEADS -- Jewelry Design Center
On-line at https://landofodds.com
BE DAZZLED -- the physical store at:
718 Thompson Lane, Ste 123
Nashville, TN 37204
Phone: 615/292-0610; FAX: 615-460-7001
Email: oddsian (at symbol) landofodds.com
(Sorry, we do not have
a printed catalog --
only Land of Odds On-Line)
COPYRIGHT 2015 Warren S. Feld