ORIENTATION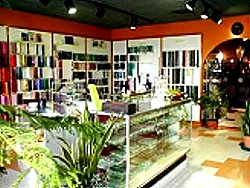 REGISTER FOR THE NEXT ORIENTATION TO BEADS & JEWELRY FINDINGS CLASS


An extended 5 1/2 hours of Orientation video tutorials
is available online. Visit here.
VIEW OUR CALENDAR SCHEDULE ONLINE.
You may register online for the next date this class is offered.
Add course to your shopping cart, then continue with the checkout process.
Select the WILL PICK UP AT BE DAZZLED shipping otpoin.
After you register, we will send you an email confirmation.
You may also register
- by phone (615-292-0610), or
- in person at Be Dazzled Beads, 718 Thompson Lane, Ste 123, Nashville, TN 37204.
The purpose of this 2 1/2 hours course is to introduce the student to a common language and understanding of beads, jewelry findings and tools that they will be working with, from The Design Perspective.
This course acquaints the student with the world of beads, and what kinds of choices the bead artist and jewelry designer need to make.
o How to tell the quality of beads before you buy and use them
o How beads are made, and the differences in quality and
craftsmanship, based on where they are made
o What the differences are among druks, fire polish, seed beads, delicas and the like
o How to understand metals and platings, especially their pros and cons, and what happens as they age
o What the various types, sizes, finishes, shapes and styles of beads are
o Where beads come from, and how they have been used historically
o How to make intelligent choices about which stringing materials to use
o What tools you will need, and how to buy them
o What the pros and cons are of various clasps and other jewelry findings
o Different approaches teachers and author's of how-to books take, when teaching beading and jewelry making, and the implications of any one, for telling you what kinds of choices to make
(All students are required to begin our curriculum with this ORIENTATION CLASS. The Orientation Class is offered once a month, typically on a Saturday morning.)
There are no fees for these classes. No supplies, tools, books or materials are needed.

__________________________________


SO YOU WANT TO BE
A JEWELRY DESIGNER
Merging Your Voice With Form
588pp, many images and diagrams
Ebook or Print


Podcast on Jewelry Journey, PART 1, 9/28/2022
Podcast on Jewelry Journey, PART 2, 9/30/2022
--------------------------------
CONQUERING THE CREATIVE MARKETPLACE
Between the Fickleness of Business and the Pursuit of Design
548pp, many images and diagrams
Kindle or Ebook or Print
--------------------------------
PEARL KNOTTING...Warren's Way
Easy. Simple. No tools. Anyone Can Do!
184pp, many images and diagrams
Ebook or Print
--------------------------------
SO YOU WANT TO DO CRAFT SHOWS
16 Lessons I Learned Doing Craft Shows
199pp, many images and diagrams
Ebook or Print