NDEBELE CELEBRATION BRACELET CLASS (class fee; kit purchased separately)
Product Description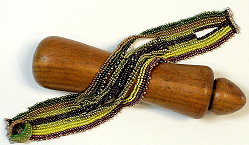 To register online for the next date this class is offered, add course to your shopping cart, then continue with the checkout process. Select the WILL PICK UP AT BE DAZZLED shipping option.
Before registering, please review our online CALENDAR for upcoming, scheduled courses.
After you register, we will send you an email confirmation.
You may also register by phone (615-292-0610) or in-person at Be Dazzled Beads in Nashville.
PURCHASE KITS AND INSTRUCTIONS:
Kit with Instructions on CD or CD Instructions Only
Instructions Digital Download
DESCRIPTION:
Express the joy in your life with this South African ritual-style piece! Utilize several variations of the Ndebele Stitch, including flat, 3 types of spiral tubes, rapid and slow increasing and decreasing.
View Warren as Guest Artist on JTV.com Jewelry Television's show "Jewel School"
as he discusses his specially adapted Celebration Bracelet project for Jewelry Television.
Mother's Celebration Bracelet
This Ndebele bracelet is a symbolic representation of joy in a woman's life. The selection of colors for the 3 central tubular components represent things which the woman celebrates in her life, about her life, and around her life. These may be colors associated with children, grandchildren or friends. They may be favorite colors, or colors of favorite flowers or other objects. They may be colors associated with important emotions, rituals or times. They may be colors associated with events or places experienced when traveling.
While the "design" of the bracelet is from the woman's perspective, the "wearing" of the bracelet is unisex. A man would be equally as comfortable wearing this bracelet, as would a woman.
The Ndebele Stitch, (also known as the Herringbone Stitch orBasketweave Stitch), originates from South Africa from the Ndebele people. This stitch is known by the herringbone or zig-zag pattern the beads make when stitched together.
This stitch is very versatile. There are many variations on the stitch, which can result in different patterns and textures, as well as looser or tighter tension. The Ndebele stitch is easy to incorporate with otherbeadweaving stitches, such as peyote, right angle or brick, off the ndebele weave.
The stitch is very soft and fluid. It results in a very beautiful texturing and patterning. A lot of thread shows in this stitch, and, in this case, is a charming part of the whole effect.
The beads sit in regular columns in angled pairs, forming a "V" (thus, herringbone,) shape.
Ndebele usually begins by creating a row or two of ladder-stitched beads. The stitch will work with any shape or size bead. Evenly sized beads will result in evenly sized beadwork. Round beads (as opposed to more squarer shapes) show less gaps between each pair of diagonally-stacked beads. With round beads, the piece feels a little more flexible.
Ndebele is easily worked flat or tubular.
Traditional Ndebele beadwork can also be very flat and 2-dimensional. In contemporary jewelry design, adding a sense of 3-dimensionality, as well as movement, are important design elements. Here the somewhat free-flowing flat strips and tubes, as well as the raised button, helpcontemporarize the piece.
In our Ndebele Celebration Bracelet, we get an opportunity to learn several variations on Ndebele. These include 3 different ways to make tube shape, including a basic tube, a basic spiral tube, and a soft spiral tube. We learn to increase the number of beads in the width of our piece using a gradual increase strategy. We also learn to decrease the number of beads in the width of our piece using a rapid decrease strategy. We learn to make a fan or arc by varying the sizes of our beads within our rows. We learn to create a "negative space" in order to provide a "button hole" for our clasp. We also learn to make a simple decorative edging effect on the sides of our bracelet.
This bracelet is meant to be worn loosely around the wrist.
SKILL LEVEL REQUIRED:
Advanced Beginner/Intermediate
PREREQUISITES:
ORIENTATION TO BEADS AND JEWELRY FINDINGS
(All students are required to begin our curriculum with this ORIENTATION CLASS. The Orientation Class is offered once a month.)
BEAD WEAVING BASICS (or equivalent)
GOAL:
LearnToBead Goals:
- History of Ndebele
- Ndebele bead weaving basics
- Managing Thread Tension
- Reading a Pattern/Creating a simple figural representation
- Flat and Tubular and Spiral and Fanning Ndebele variations
- Increasing and Decreasing with Ndebele, both rapid and slow
- Adding a simple edging effect
- Adding a button clasp, and creating a negative space as part of the clasp assembly
- Discussion of when Ndebele works well
PROJECT/TASKS:
Learn flat ndebele, 3 techniques for tubular twist ndebele, increasing and decreasing with ndebele, fanning out with ndebele, attaching button clasp.
SKILLS LEARNED:
LEARNING OBJECTIVES

STITCH OF THE MONTH
NDEBELE STITCH
NDEBELE CELEBRATION BRACELET
BW1-3-SOM-Ndebele

BEGINNER

INTERMEDIATE

ADVANCED

TECHNICAL MECHANICS

1. Managing Thread Tension

BEGINNER

2. Holding Your Piece To Work It

BEGINNER

3. Reading Simple Pattern, Figure and/or Graph

BEGINNER

4. Selecting Materials

BEGINNER

5. Identifying Areas of Potential Weakness, and
Strategies for Dealing With These

BEGINNER

6. Determining Measurements, including Width and Length of a Piece, Especially In Relationship To Bead Sizes

BEGINNER

7. Finishing Off Threads in Piece or Extending by Adding Threads

BEGINNER

UNDERSTANDING CRAFT BASIS OF STITCH

1. Starting the Stitch

BEGINNER

2. Implementing the Basic Stitch

BEGINNER

3. Finishing Off Your Piece With A Clasp Assembly

BEGINNER

4. Creating Simple Surface Embellishment

BEGINNER

5. Creating a Simple Edging or Fringe

BEGINNER

6. Working Stitch in Flat Form

BEGINNER

7. Increasing and Decreasing

BEGINNER

8. Working Stitch in Tubular Form

BEGINNER

9. Working Stitch To Create Open (Negative Spaces), and Split Forms

BEGINNER

10. Elaborately Embellishing the Stitch, including Fringes, Edge Treatments, Surface Treatments, Bails, Straps and Connectors

11. Working Stitch in Circular Form

12. Working Stitch in Spiral Form

13. Working Stitch in Diagonal Form

14. Working Stitch in 3-Dimensions (sculptural)

UNDERSTANDING ART & DESIGN BASIS OF STITCH

1. Learning Implications When Choosing Different Sizes/Shapes of Beads, or Using Different Stringing Materials

2. Understanding Relationship of this Stitch in Comparison to Other Types of Bead Weaving Stitches

3. Understanding How Bead Asserts Its Need For Color, Using This Stitch

4. Creating Your Own Design with This Stitch, in Reference to Design Elements and Jewelry Design Principles of Composition

5. Creating Shapes, Components and Forms with This Stitch, and Establishing Themes

6. Building in Structural Supports, and Other Support Elements, into the Design

BECOMING BEAD WEAVING ARTIST

1. Developing A Personal Style

2. Valuing or Pricing Your Work

3. Teaching Others The Stitch

4. Promoting Yourself and Your Work

5. Advocating for Jewelry as "Art" and as "Design"
SUPPLIES REQUIRED:
COLOR A: 11/0 seed bead (3 grams)
COLOR B: 11/0 seed bead (3 grams)
COLOR C: 11/0 seed bead (6 grams)
COLOR D: 11/0 seed bead (6 grams)
COLOR E: 11/0 seed bead (6 grams)
COLOR F: 11/0 seed bead (3 grams)
COLOR G: 11/0 seed bead (3 grams)
COLOR H: 15/0 seed bead (1 gram)
COLOR I: 8/0 seed bead (.5 grams)
COLOR J: DB 11/0 (.2 grams)
COLOR K: DB 10/0 (.3 grams)

1 button (1/2" - 3/4" diameter)

FireLine, Size D (.008") 6# test
With This Kit, You Will Receive...
- Step by Step instructions on CD
with text, diagrams and images
- Size 11/0, 8/0 and 15/0 seed beads, and 11/0 and 10/0 delicas
- FireLine cable thread in a matching color, size D
- 4ea of size #10 and size #12 beading needles
- button for clasp
- Plastic case with lid for carrying these supplies



What You Will Need To Have On Hand...
- Bees wax or microcrystalline wax
- Scissors
- Ruler, pencil and paper
- Work Surface
- Bic lighter or thread zapper
- Bead to use as "stopper", or bead stoppers, or clamps
- chain nose or flat nose pliers
- bracelet sizing cone or some way to measure your wrist
- Sufficient lighting, magnification, chair cushioning, if needed
This class is typically offered once every other year.
VIEW OUR CALENDAR SCHEDULE ONLINE.

You may register
- online,
- by phone (615-292-0610), or
- in person at Be Dazzled Beads, 718 Thompson Lane, Ste 123, Nashville, TN 37204.
When registering online, select the WILL PICK UP AT BE DAZZLED shipping option.
Product Reviews
Find Similar Products by Category