HAPUA REEF CUFF WORKSHOP (Class fee plus kit fee)
Product Description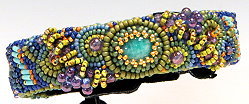 HAPUA REEF CUFF BRACELET WORKSHOP
Learn 12 Bead Embroidery Techniques
Advanced Beginner Skill Level
Sat, March 23, 2019
10:00am - 4:00pm
To register online for the next date this workshop is offered, add course to your shopping cart, then continue with the checkout process. Select the WILL PICK UP AT BE DAZZLED shipping option.
Before registering, please review our online CALENDAR for upcoming, scheduled courses.
After you register, we will send you an email confirmation.
You may also register by phone (615-292-0610) or in-person at Be Dazzled Beads in Nashville.
WORKSHOP REGISTRATION FEE
(includes Instruction Fee plus Kit Fee)
DESCRIPTION:
Capture the romance of the shallow waters along a tropical lagoon beach! Learn several simple bead embroidery techniques for expressing the artistry of it all.
Bead Embroidery has been used to embellish and decorate clothing since the dawn of civilization. In both Russia and China, remains have been found of bead embroidery dating back thousands of years. In more recent history, bead embroidery has been used to decorate religious items, formal attire, and household objects.
Bead Embroidery is such a versatile stitch that all beads are game! If you were working on a large wall-hanging, larger beads would be appropriate.
Conversely, if you were working on a necklace or bracelet, you would want to use beads that are proportionate to your project. Within those guidelines, any type of bead (bugle, seed, delica, drop, etc.) would enhance the dimensionality and texture of your piece.
We create a canvas, decide how to give form to this canvas, plan a design, and embroider that design onto our formed-canvas. The challenge is always to achieve a contemporary, artistic look to your piece -- one that has a sense of movement, dimensionality, a use of materials that makes the ordinary 'noteworthy', and good technique.
In this piece, I wanted to re-create the colors, patterns and lines of the beautiful forms, waves and materials along the shoreline of a tropical lagoon and the underlying reef in the Caribbean. I especially liked looking through the shallow water where it met the beach at a particularly secluded part of the lagoon.
I also wanted to create an embroidery plan that allows the student to learn several different embroidery-patterning techniques within the composition as a whole.
SKILL LEVEL REQUIRED:
Advanced Beginner
PREREQUISITIES:
ORIENTATION TO BEADS AND JEWELRY FINDINGS
(All students are required to begin our curriculum with this ORIENTATION CLASS. The Orientation Class is offered once a month.)
BEAD WEAVING BASICS (or equivalent)
GOAL:
LearnToBead Goals:
- Basics of Bead Embroidery, including
--- Preparing a brass cuff form, finishing the inner and outer surfaces with ultra-suede and Lacy's Stiff Stuff foundation
--- Drawing a template and setting up a design plan for your piece
--- Attaching beads to the foundation, using various methods, including back stitch, couching, bezeling a stone, placing beads linearly and curvalinearly, crowding, cross-hatch, and fringe-style embellishment
--- Adding an edging around your piece
PROJECT/TASKS:
Prepare Foundation and Draw Pattern
Apply several different bead embroidery techniques to finish off foundation
Attach ultra suede to brass cuff blank
Attach finished bead-embroidered foundation to cuff
Finish off the edges
Learn how to make the cuff without using a cuff blank.
SKILLS LEARNED:
LEARNING OBJECTIVES

HAPUA REEF BRACELET
BW1-10-EMB-01

BEGINNER

INTERMEDIATE

ADVANCED

TECHNICAL MECHANICS

1. Managing Thread Tension

BEGINNER

2. Holding Your Piece To Work It

BEGINNER

3. Reading Simple Pattern, Figure and/or Graph

BEGINNER

4. Selecting Materials

BEGINNER

5. Identifying Areas of Potential Weakness, and
Strategies for Dealing With These

BEGINNER

6. Determining Measurements, including
Width and Length of a Piece, Especially In Relationship To Bead Sizes

BEGINNER

7. Finishing Off Threads in Piece or Adding Threads

BEGINNER

UNDERSTANDING CRAFT BASIS OF STITCH

1. Starting the Stitch

2. Implementing the Basic Stitch

BEGINNER

3. Finishing Off Your Piece With A Clasp Assembly

4. Creating Simple Surface Embellishment

INTERMEDIATE

5. Increasing and Decreasing

6. Working Stitch in Tubular Form

BEGINNER

7. Working Stitch To Create Open (Negative Spaces), and Split Forms

8. Elaborately Embellishing the Stitch,
including Fringes, Edge Treatments, Straps and Connectors

BEGINNER

9. Working Stitch in Circular Form

10. Working Stitch in 3-Dimensions

BEGINNER

UNDERSTANDING ART & DESIGN BASIS OF STITCH

1. Learning Implications When Choosing Different
Sizes/Shapes of Beads, or Using Different Stringing Materials

BEGINNER

2. Understanding Relationship of this Stitch in Comparison
to Other Types of Bead Weaving Stitches

BEGINNER

3. Understanding How Bead Asserts Its Need For Color,
Using This Stitch

BEGINNER

4. Creating Your Own Design with This Stitch, in
Reference to Jewelry Design Principles of Composition

5. Creating Shapes, Components and Forms with
This Stitch, and Establishing Themes

BEGINNER

BECOMING BEAD WEAVING ARTIST

1. Developing A Personal Style

2. Valuing or Pricing Your Work

3. Teaching Others The Stitch
SUPPLIES PROVIDED:
1/2" brass cuff blank
Lacy's stiff stuff
Ultra suede sheet
4 colors of 11/0 seed beads (3.5 grams)
6 colors of 15/0 seed beads (5 grams)
4mm druk round beads (2 beads)
3mm fire polish round beads (17 beads)
4mm druk rondelle beads (2 beads)
3mm druk round beads (2 beads)
3.4mm drop beads (10 beads)
japanese size #1 bugle beads (20 beads)
12x10mm cabochon
C-lon thread
Fabri-Tac glue
E6000 glue
This class is typically offered once every other year.
VIEW OUR CALENDAR SCHEDULE ONLINE.

You may register
- online,
- by phone (615-292-0610), or
- in person at Be Dazzled Beads, 718 Thompson Lane, Ste 123, Nashville, TN 37204.
When registering online, select the WILL PICK UP AT BE DAZZLED shipping option.
Product Reviews
Find Similar Products by Category
Customers also viewed