CLASPS
CLASPS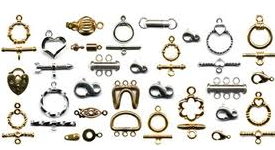 NOTE: The designs and sizes will vary slightly on handcrafted clasps.

Attach one end of the chain/strand to the open end of the clasp as shown. Bend the end over with chain-nose pliers to secure.
Hook the other end of the chain/strand and snap to close.


Toggle clasps, or "toggles", (and button clasps as well) are some of the best clasps to use. They are easy to get on and off. They are very sturdy. They are very attractive. Toggle clasps should be proportionate in size to the size of the beads on the strand. On necklaces, especially attractive or interesting toggles might be designed to rest to the side or the pendant bottom of the necklace, rather than the back. Toggles are good to use as the "secure point" in a lariat. Toggles that are square or oval are easier to get on and off, and are also more secure, than round ones.

Remember always to make the side with the bar a little longer and narrower than you would when using other types of clasps. You need a little extra length to maneuver, and your beads at that end can't be so large as to hinder the movement of the bar through the ring.

When buying toggle clasps, it is always important to purchase and use these as a set. Often, the bar is especially engineered to work with a particular ring. It could be off 1mm, and not work right. That means, even after you purchased your toggle clasp set, you need to be sure to store it as a set, so you don't get confused later on, when you go to use the clasp.

These 2-piece clasps are especially easy to use, and very secure. One piece slides into and out of the other. They work well for both necklaces and bracelets. They are an ideal choice for multi-strand pieces where you want each strand to show on its own.

Magnetic clasps are very strong, easy to attach, and easy to open and close. They are composed of two pieces, each with an embedded magnet. Each piece has a loop from which you attach the string of beads.

If using on a bracelet, we suggest adding a little safety chain (2-3" of chain, or a chain extender piece)

Opening and Closing Magnetic Clasps: This is a bit trickier than you might think.
For the simple, plain clasps, you would slide these together and slide them apart. For the fancy ones, you break these open, like breaking a stick. Pretend that one side has a hinge, and you crack the other side apart -- sort of like taking the shell off a pistachio nut.

You never PULL them open. And you never PULL ON THE BEADED part of the jewelry to open them. Pulling can loosen the magnet in its setting; it can also result in breaking the stringing material the piece is strung on. For bracelets, then, opening and closing them is very difficult for one person alone, without the help of another.

On an S-Clasp, you attach a soldered ring to each side, and then attach your string of beads to each soldered ring. On one end of the clasp, you maneuver the curved wire so that the ring cannot slip off it. On the other end, you maneuver the curved wire so that there is a bit of an opening for the ring to slip off, but only after some resistance from the wire.You don't want too much of an opening where the ring could slip off without any kind of resistance from the wire.


See our...
Pearl Knotting Kits, and
Pearl Knotting Video Tutorial
...under our KITS and CLASSES sections.